Our Showroom
The best way to shop for a new fireplace is to see it in person and in operation. At Alpine Climate Control, we have the largest hearth products showroom in the area. We show wood, gas and pellet models that represent a good cross-section of our product line in steel, cast iron, and soapstone. You get to see first hand, construction quality, flame presentation, log sets, trim options, and colors. So come and see us, and let our staff help you navigate through all your options.
Showroom Hours
Monday – Friday 8am – 4:30pm
Saturday 9am – 5pm
Make an appointment to visit our showroom in the evening or over the weekend.
We want you to be able to make the best decision for your home and know exactly what you're getting. The following is a primer on the different types of fuel and models that we have available. Also, take a minute to browse our hearth products to see what brand might be the best for your home.
Wood Stoves
Many of today's wood-burning models are EPA approved to be efficient, clean-burning, and environmentally sound. They are available in many sizes to heat small to large areas. There is nothing like the crackle, smell, and heat of a cozy wood burner. Keep in mind that wood-burning models need tending, so bringing in wood, loading them, tending the fire and cleaning them out are all requirements of owning one.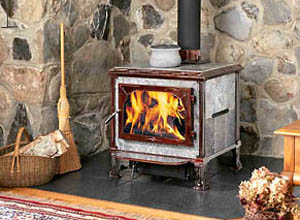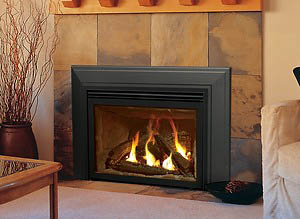 Gas Stoves
Natural gas or propane units provide convenience. They are operated by a switch or thermostat, provide heat very quickly with realistic flames and can be turned off just as quickly. Gas models can be vented through the roof or sidewall so they can be installed in basements, bedrooms, and most anywhere. Maintenance is minimal and they do not require electricity to run – so they are a backup heat source.
Free-Standing Stoves
We have freestanding models that can be installed almost anywhere. They do a great job of putting heat into the room because the whole stove and vent sits in the room. These stoves may require a hearth pad.
Fireplace Inserts
Inserts are designed to fit inside an existing masonry or built-in wood fireplace, converting it into a more efficient heat source.
Zero-Clearance Fireplaces
These are designed for new construction or remodeling projects and can be framed around and built-in.
What's Right For You?
Heat a cold room
Gas or pellets can heat small to large rooms and will regulate temperature automatically. These gas and pellet units also turn on and off easily.
Reduce my heating cost
Wood or pellet units can heat more economically than electric heat or propane. Models are available that will heat a large area.
Improve my atmosphere
Displaying a gas log set or a small gas or wood burner can set the mood in any room of your home.
Ensure I have backup heat
No worries – wood and gas units can operate without electricity.
Remodel my wood-burning masonry fireplace
We have inserts available in wood, gas or pellet models and can turn your old fireplace into an efficient heat source.